Uniform & Equipment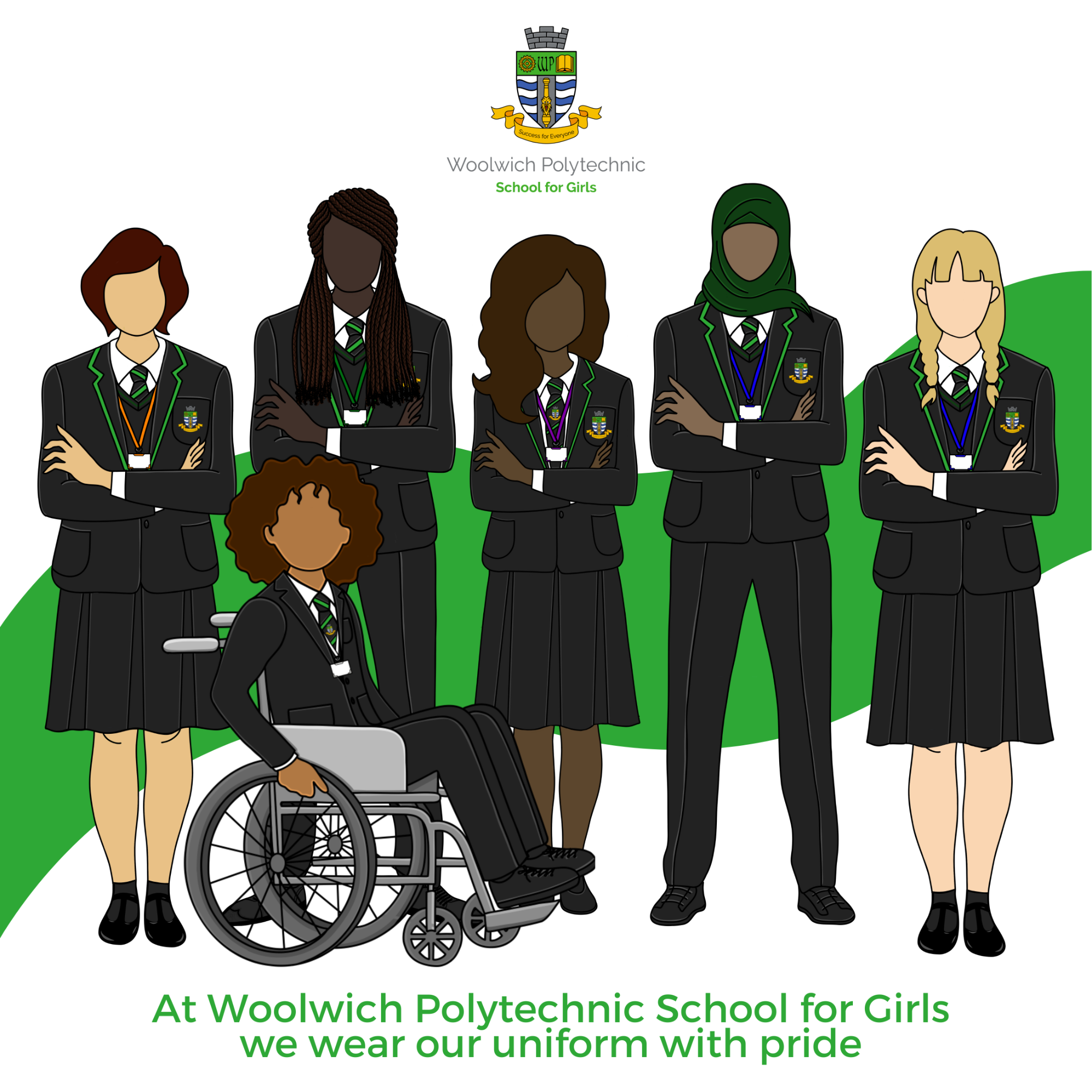 Students are expected to wear full school uniform at all times with no exceptions, this includes on their journey to and from school. If your daughter does not have correct uniform on, she may be sent home. If there is a legitimate reason that she does not have her full uniform, please contact the school via phone or provide her with a note to explain why she does not have it and when she will be provided with the item(s).
Hoodies, sports tops/jumpers, trainers and hats/bandanas are not permitted at any time and will be confiscated.
The school will not be responsible for the replacement or reimbursement of any non-uniform items that may be lost or stolen.
Please ensure that ALL items are labelled with your daughter's name.
Compulsory items:
*School Blazer
*School tie
White shirt/blouse (can be long or short sleeved)
Black skirts that should be pleated and touch the top of the knee at a minimum. (*Longer straight skirts for cultural or religious reasons are allowed.)
OR
Black straight cut trousers (can be purchased from uniform website - Plymouth trouser) or alternatively any plain, straight legged, black trousers are permitted – no leggings, tracksuit bottoms or 'bodycon'/fitted style trousers are allowed
Black flat leather shoes (No trainers, canvas shoes, high heels, or shoes that resemble trainers will be permitted. Flat ankle boots are allowed)
Plain opaque black tights or black ankle socks (No patterns or other colours)
Plain black school bag, rucksack style (not a 'handbag', must be big enough to fit all schoolbooks in flat and a PE kit)
Seasonal
A plain dark coat or jacket for outside wear
PE Kit:
Compulsory
*School PE top
*School green sports socks
Plain black football style shorts or plain black tracksuit bottoms
*School green sports socks
Trainers
Optional items
*School branded V-neck jumper (to be work under a blazer, not as an alternative)
*School branded PE kit (including t-shirt, jumper, shorts and socks)
Black/dark green hijab
Items with an *asterisk, can only be purchased from the school uniform website – brigade.uk.com - you have been given information regarding uniform and how to order via email.
All hairbands and accessories (headbands, clips etc.) should be plain black or dark green. We do not allow students to wear false nails or nail varnish. We strongly discourage students from wearing make-up and therefore it should be subtle/unnoticeable if it is worn.
No jewellery is allowed in school at all except a wristwatch (not a smart watch). This includes all forms of earrings. This is for health and safety reasons and also to prevent loss and potential upset. If a student arrives at school wearing them, they will be told to remove them or be sent home.
(Please do not allow your daughter to have a new piercing during the school year as there is not sufficient time for it to heal and we will ask you to remove it; any new piercings should be done at the start of the Summer holiday to allow this healing time).
Where to purchase it
All compulsory items can be purchased directly from the manufacturer via this link Brigade School Clothing
Woolwich Polytechnic School for Girls currently source their compulsory school uniform items via brigade.uk.com
Any non-compulsory items can be purchased from any other provider such as a high-street retailer.
Equipment and Stationery
Students will be provided with all exercise books and any text books or subject specific equipment they might need. If students lose their exercise books, or any other school property, they will be expected to pay for a replacement. This also stands if a student causes any damage to school property or equipment. All students are expected to take pride in their school environment and look after school property.
Student are required to bring the following equipment to school every day: Pencil case containing a minimum of 2 pens (blue/black), 2 pencils, ruler, rubber, sharpener and a purple coloured pen. If your daughter loses any of this equipment, or it runs out, parents will need to replace it. However, we do have a stationery shop in school that is usually cheaper than shops.
You must purchase a scientific calculator for your daughter.
Please note: Felt-tip pens, permanent markers (e.g. 'Sharpies') and any correction fluid such as Tippex are NOT ALLOWED and will be confiscated.
Reading Books
Reading confidently is the key to learning in school, and we insist that students always carry a reading book. We expect that students will read at home for at least 30 minutes every day, and we ask all parents to listen to their daughter read for at least 30 minutes twice a week. We actively advise that students are members of their local libraries and visit them often. There is a school library where students can borrow books and take part in other activities. Students are expected to look after books borrowed from the school library and if they are not returned on time or are damaged in any way, parents will be charged for a replacement.