Pastoral Care
CARING FOR OUR GIRLS
At Woolwich Polytechnic School for Girls, safeguarding and pastoral care is our number one priority. As well as academic qualifications, we want every student to embody our pillars: Leadership, Excellence and Resilience as they encompass the skills needed to be successful and well-rounded individuals. Form tutors and a Head of Year will be assigned to your daughter and remain with her throughout her journey at the school, which allows for the consistency needed for partnerships to fully develop between the school, the student and the parents or carers. This is an outstanding and compassionate team that will ensure your daughter succeeds academically, socially and personally. At Woolwich Polytechnic School for Girls, we celebrate our diverse and multicultural community. Students and staff alike will always respect each other's differences and show acceptance to all. We will support our girls with any difficulties that they might have and believe that every student can thrive in the safe and happy environment that we have created. We have a celebratory and thankful ethos where we inspire our girls to reach their full potential by rewarding their successes, both inside and outside the classroom. Students and staff show gratitude to one another daily and have a mutual respect for one another's roles.
We do promote our 'warm, strict but fair' expectations with confidence, as we believe that it is the very essence of what students need to thrive. Students that do not follow our three simple rules, be ready, be respectful and be safe, will be sanctioned. However, we believe in pre-emption and restoration, which is why we have an introductory week at the start of September, where we teach our young women how to be polite, show gratitude and kindness. Our sanction system includes 'Reset' in place of detention and 'Refocus' in place of internal exclusion, leading to rebuilding of positive relationships and moving forward with a clean slate. All staff at Woolwich Polytechnic School for Girls are trained in safeguarding and report to a Designated Safeguarding Lead who is specifically trained for the role. We recognise our moral and statutory responsibility to safeguard and promote the welfare of all our students. We endeavour to provide a safe and welcoming environment, where students and staff feel respected and valued and promote a culture of openness, where both can talk and are listened to. As a school, we will refer to outside agencies when deemed necessary in order to support the welfare and wellbeing of every student.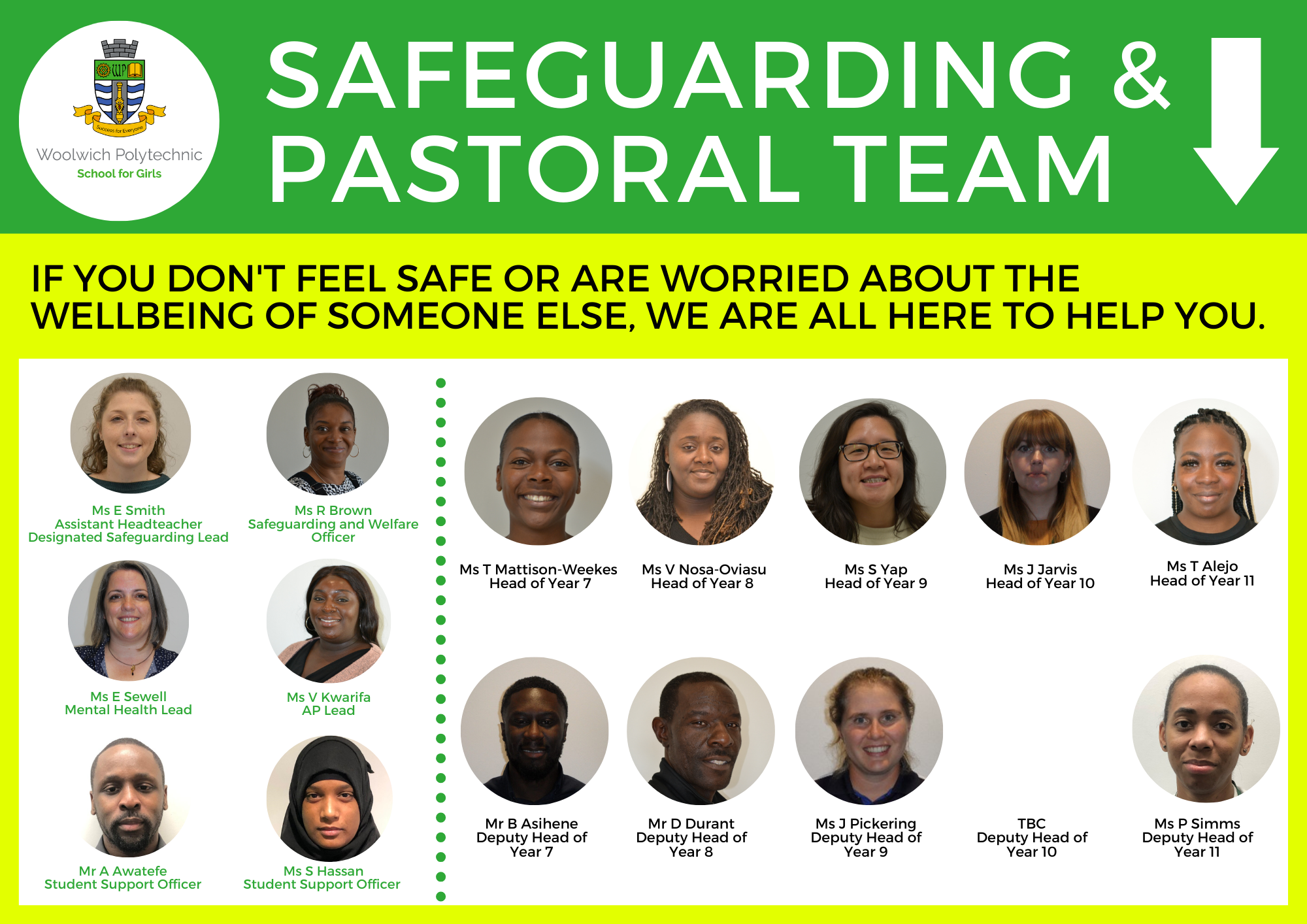 Message from MS SMITH - HEAD OF PASTORAL CARE
As the Head of Pastoral Care, my job is to ensure that all students at WPSfG are happy, healthy, and safe whilst thriving in school too.
I will support all the staff in the school to make sure that we give you any help that you might need at any time. I firmly believe in our school values; Care and Unity and the pillars which support those; Leadership, Excellence and Resilience.
I want to be certain that all students are given the opportunity to become the very best that they can be, both as individuals and as part of the wider community. Some students may need some extra help and guidance to get there, some may thrive from day one; you are all different, and we will do our best to support you to achieve.
I hope that this has given those of you who are a little nervous some reassurance. Secondary school is not as scary as you think it might be, and we will do our best to make it as successful and happy for you as possible!